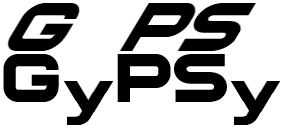 Advertising on GPSGyPSy
---
Unlike in print media, an advertisement on the internet can be there every day and every night, endlessly. Not one week or one month and then gone. It can be here 365 days/year, 24 hours/day. And next year, too ... nonstop.
The number of internet readers is very high, day after day after day, and the kinds of readers who view your advertisements are on www.gps-gypsy.com because they are looking specifically for places to go and things to do.
Internet advertising is one of the most cost effective ways to advertise.
Printing ads on old fashioned paper is getting outdated.
Unlike with paper ads, with a web site or a web page, you can give people as much information about your business as you wish, both photos and text. In fact, you can have smaller advertisements in newspapers and magazines, and give your web site or web page address for people to go for more information.
There are three ways you can advertise:
You have an existing website, and just need visitors -- links from our website (Directory plus Maps).
You need us to create a website or web page for you.
Banner ads on our website.
Regarding item #2, if you don't have a website or a web page yet, then we can create one for you. The cost of the website or web page depends on the conceptual design.


Getting Listed in our Directory and on our Maps -- (item #1 above)
The cost for item #1, listing an existing website on our Maps and in our Directory, is free at this time and for the forseeable future.
However, if you need for us to come to your location to get your GPS coordinates in order to place you on our map (unless you are in a well known location we can find on an existing GPS map), then the cost for coming to your location with our GPS device is 200 baht in central Bangkok.


Web Page or Complete Website? (item #2 above)
If you do not have a website, then you have two options:
Web page, one long page with about 5 photos and basic text information on your business, quickly and cheaply

Web site, with multiple pages, menu, and much more customized
In either case, we can get a domain name for you so that you have www.YourBusiness.com and email addresses like you@yourbusiness.com
We can host your site on-line on our server.
Example of a quick and cheap web page, enough to introduce your business and attract customers: CountryRoadTwo.gps-gypsy.com
An example of a quick custom websites with more details:
For a web page, you get a custom email address subject to our conditions. For a web site, you get multiple email addresses.
Special, limited time offer for a web page - for 6400 baht total:
Internet domain, e.g., YourBusiness.com
Web page with up to 5 photos and a map, plus text on your business
Inclusion in www.gps-gypsy.com -- our directory and maps
Web hosting and email forwarding on our server for 2009
Email address, e.g., You@YourBusiness.com
Normal prices for web hosting are nearly that much per year, not including the web design, creation and maintenance!
This costs less than 10 baht per day, or under 300 baht per month for all of the year.
Web pages are completed within 1 week of an order, as long as we can get photos from you to start with or else send our photographer to your place. (Reasonable revisions within the first few weeks are included in the cost.)
The prices for a full blown website would be higher and depends on the work you require, but the terms are otherwise nearly the same, i.e., your domain name, inclusion on gps-gypsy.com until January 2010 at least, and web hosting and email on our server.
You can start with a web page for quick results, and then upgrade to a web site later if you wish.
Banner Ads -- (item #3 above)
In addition to being listed in our Directory and on our Maps, you might also want a featured listing or a banner ad on one or more of our pages. The cost of banner ads depends on the location and size, so please inquire if interested. We can provide more details depending upon your kind of business.


Limited Time, Introductory Offer
About our established company, track record, and capabilities:
We have been creating websites since 1996.
Our rates are competitive, and our quality is exceptionally good.
We can do both English and Thai versions, as we also run a translation agency (and web localization) at www.ThaiEnglish.com
We are well experienced in the various methods of driving visitors to your website, and internet marketing. (You can have the greatest website in the world, but potential visitors still need to be driven to your site.)
We do the whole range, a one stop shop -- including domain name registration, web design, and operating our own servers for email and websites. We prefer to do the quality control ourselves, but we are also happy to set up a website on your own ISP host if you wish.
If you are interested, the best thing to do is call our office on Sukhumvit 2 at 02-255-2970.
We can send a sales representative to meet you at your business or any place convenient to you.
Please note: Payment is normally made to Export Quality Services Co., Ltd., by either ATM or bank deposit, or cheque. For other arrangements, please call our office at 02-255-2970 whereby you can speak with anyone who will answer the phone.